At the Y nurturing the potential of children and teens and building strength in our families is at the core of what we do.  During these uncertain times where we are encouraged to stay home the Y is here for you.  We encourage you and your families to explore, create, learn and laugh.  Embrace this opportunity to develop and grow together.
Weekly Resources: Monday June 1 – Sunday June 7
Each week the Y team will be providing new resources, activities and ideas for you to fill your week with! Click the day of the week for the resources.
---
WORKOUT WITH THE ABC'S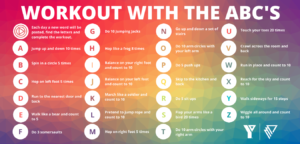 ---
YMCA AT HOME: FREE PROGRAMS ANYTIME, ANYWHERE!
At the YMCA, we are committed to supporting you and your family's health and wellness. YMCA at Home is our new virtual platform that provides you with the ability to connect with your favourite YMCA programs anytime, anywhere! New videos will continue to be added!
VISIT YMCA AT HOME
YPlay will help you build strong kids and a strong family at home! Activities are designed for a variety of ages and levels of ability and can be done from your family room for FREE.
YThrive Home will help you get your daily dose of YMCA fitness and community with amazing workouts! Workouts are designed for almost any fitness level and can be done from your living room for FREE.
YWell will bring you strength in spirit, mind and body at home! Activities are designed for a variety of levels and can be done from the comfort of your home for FREE.