The memories and impacts of camp last a lifetime
The Y's Camp Thunderbird is a local institution on Vancouver Island, offering a structured outdoor experience in nature and developing young leaders since 1935.  We regularly hear from parents how Camp Thunderbird has transformed their children with opportunities to challenge themselves, build confidence, connect with others, appreciate the natural environment, and unplug from technology. 
Now, more than ever, we need your support .
---
A Camp Thunderbird Story
My son recently turned 13 and is now in grade seven. He has gone to the Y's Camp Thunderbird for the last two summers and has significant learning disabilities. His dyslexia impacts everything he tries to do. From grades 4-6, he experienced severe bullying and was called stupid and dumb. He hated school.
During this time his father and I divorced. His dad was homeless, and I was back to work and trying to support a family after being a stay at home mom for 10 years. With all this happening, along with the death of his four year old cousin, my son became very sad. It was very difficult to watch. He missed his dad, I was working all the time, and I was grieving and tired too. As a single mom, I can't tell you how grateful I am to the YMCA-YWCA of Vancouver Island.
Through the Y's Strong Kids Campaign, we received Financial Assistance the first summer to make Camp Thunderbird possible. My son went with one of his classmates and spent a week at camp. When I picked him up, he had more joy then I have ever seen. His counsellors described him as a generous, kind person who was a leader on the hikes and kayaks. He loved camp! He also built a bond with his classmate and now had an ally at school. At Camp Thunderbird, he felt as though he counted and was valued.
His brother is also dyslexic and struggles at school, and I cannot wait to have him attend Camp Thunderbird and feel the same joy in such a safe place, because that is truly what Camp Thunderbird is. It is a place where ALL children can be kids, get dirty, laugh and feel loved. It is a place where children are challenged and supported, and where they come to realize they are capable and good.
---

In a typical year, we welcome over 1,200 children and youth to our overnight and day camps, with another 2,000 through school programs, representing a huge cross section of our community.
After cancelling 2020 summer camp programs due to COVID-19, we later offered an adapted program for Day Camps. Starting mid-summer and supported by several private donations, it was a different camp experience, but completely worth it for those who participated.
This year we have planned an expanded set of Day Camps for 600 participants – more than 3 times last year's count.  While overnight camping in cabins will not be possible again this year, we are excited about the program.
To accommodate more campers in 2021 and keep prices accessible for all campers, we are asking you to support Camp Thunderbird.
Transportation costs have increased to allow for greater distancing on buses

With much fewer participants, the cost per camper increases

Ongoing site preparation and maintenance of camp infrastructure continues

Additional cleaning protocols and materials to address new health authority requirements
---
Andrew Beckerman, long time Y supporter and recent recipient of the BC Medal of Good Citizenship, offers this challenge to other donors:
"As the pandemic continues to negatively impact the mental and physical health of our youth, it is critical that kids in our community have this opportunity.  I have increased my annual donation to Camp Thunderbird by 50% and I challenge you to match my increase with your donation this year."
---

Learn more about Camp Thunderbird programs, click here.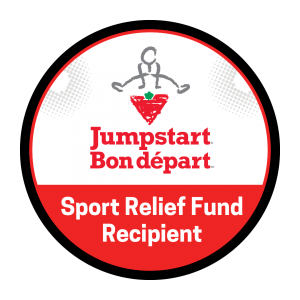 As one of nearly 300 sport and recreation organizations across Canada to receive grant funding from Jumpstart's Sport Relief Fund this year, the continued need for support is apparent.