Everyone can go to camp!
Financial assistance is provided by funds raised through the YMCA-YWCA of Vancouver Island's Strong Kids Campaign.  It is through the outstanding generosity of our Y family and friends that everyone can have a camp experience. Any families whose financial circumstances make them unable to pay the full fee for their child's summer camp or outdoor education program are eligible.  The YMCA-YWCA uses the Government Low Income Cut Offs (LICO) as a guide to ensure those families in the most need receive assistance, both the LICO and Strong Kids funding available changes from year to year therefore reapplication is required.
Thank you for your interest in Camp Thunderbird and Financial Assistance.  We require the following supporting documents for all adults in the household:
– 2017/2018 Notice of Assessment
– Current pay stubs (previous month)
– Some situations may require additional documentation.  For example, you may be asked to provide documentation of your monthly Child Tax Benefit amounts, Student Loan Information, EI information.

Groups attending Outdoor Education programs in the Spring and Fall may apply for funding for their group/class or for specific participants with a financial need. Everyone must contribute a portion of the fees for their visit to Camp Thunderbird.
To apply for Financial Assistance for your class, group or individual participants please complete the application form.  Applications should be submitted by the teacher or group representative to Registration Services no later than 14 days before the visit to the Y Outdoor Centre.
Who is eligible to receive financial assistance?
Families whose financial circumstances make them unable to pay the full fee for their child's program and do not exceed the Government Low Income Cut Offs (LICO) are eligible.
---
If I have received subsidy from the Y in the past can I apply again?
Yes.  Please note that funding is provided by generous donations to the Y and funding levels vary from year to year. It is our goal that if possible you contribute more towards the camp fee each year.
---
How many camp programs may I apply for?
Campers may apply for Financial Assistance towards one (1) camp program per year.  Transportation costs are not eligible.
---
Is it possible to attend camp for free?
No, everyone must pay some portion of the camp fees.
---
What happens if my scheduled payment is declined or returned?
If the funds are declined or returned, the YMCA-YWCA will automatically attempt to withdraw fees a second time (within 10 days from the original payment date).
If funds are not available at the time of the second attempt, you will be contacted by phone and email to make payment. Payment must be made within 7 days or the camp registration will be withdrawn.
Any initial payments will be returned less a $50 administration fee. To re-register your camper, they will be placed at the back of the registration queue and space is not guaranteed.
---
How does the Y determine how much I pay?
The Y uses the government's Low Income Cut Off Chart to determine your eligibility.
What if my income level is higher than the Low Income Cut Off?
We understand that life presents many challenges if you do not qualify for financial assistance we encourage you to consider all of the Y's camping options including day camps or a shorter camping experience.
You might also consider selecting our payment plan which provides an option to pay an initial payment of 25% to register and the remaining fees on May 8th.
Unique or special circumstances may ask for a review which may include providing more documentation of income or expenses by the Registration Services Supervisor.
---
Will others know my child/family was subsidized?
No, this is completely confidential.  Only registration staff and Y management involved in processing your application are aware of your situation.  Neither the leaders nor the participants will know this information.
---
If I receive assistance from the Y, what is expected of me?
Please keep all information and fees discussed confidential.  Once approved you are required to follow through on your commitment of completing payments as determined during the application process.  A fully completed application must be received in order to process it.
Every year, the YMCA-YWCA of Vancouver Island has the privilege of distributing a number of private funds designated to assist children attending summer camp who need extra subsidy. All awards are one time opportunities and announced at the YMCA-YWCA of Vancouver Island's Annual General Meeting.
Leadership Development:
Ken Currey Memorial Campership Fund
Ken was a long time Y staff member who made a significant contribution to the growth and development of the YMCA-YWCA of Vancouver Island and embraced the mission and values of the organization.
Campership Amount: Partial funding of the cost of a Leadership Development Course at the Y's Camp Thunderbird.based on the available annual income generated from the fund.
Peter McGill Memorial Endowment Fund 
Peter McGill, a long time member and supporter of the YMCA-YWCA of Vancouver Island was a respected teacher and mentor for 35 years in School District 61.
Campership Amount: Partial funding of the cost of a Leadership Development Course at the Y's Camp Thunderbird.based on the available annual income generated from the fund.
Eligible Campers and Criteria:  Permanent residents of Vancouver Island under 18 years old registering in a leadership program at Camp Thunderbird who demonstrate the greatest potential in a leadership development opportunity.
To apply:
Financial Assistance Application form
A one page document outlining skills and abilities and how you will benefit from this funding
The name and contact information of at least one personal reference
A copy of your LD1 Camper Evaluation form or Outpost Camper Development form if available
Applicants may be asked to do a telephone interview
Copy of your resume (optional)
Attn: Fione Wilson General Manager, Fund Development
fwilson@vancouverislandy.ca 
Prior to April 30th for Summer Opportunities
Camperships
Eligible Campers and Criteria: All Financial Assistance applicants will be automatically considered for Campership awards and awarded to those with the greatest financial need. No additional application is required.
Mitch Pechet Memorial Fund – "Mitch's Locker Fund"
Mitch was a businessman, sportsman, coach, and a great family man. Mitch was a daily presence at the Downtown Y for almost 65 years.
Campership Amount: 100% funding for one child each year to attend Camp Thunderbird for campers registering for a 5 day Explorers, Pioneers, or Outpost Base Camp Programs only.
Nicola Benn Scholarship Fund honors a beloved Counsellor at Camp Thunderbird who passed away at a very young age.
Dorothy Hamilton Endowment Fund was started in 2006 to support camperships at Camp Thunderbird. Dorothy was an active Y member, a dedicated runner, and a volunteer Board member for the Y who was very attached to the leadership programs at Camp Thunderbird.
 Campership Amount: Partial funding toward the cost of a summer program at the Y's Camp Thunderbird.based on the available annual income generated from each of these funds.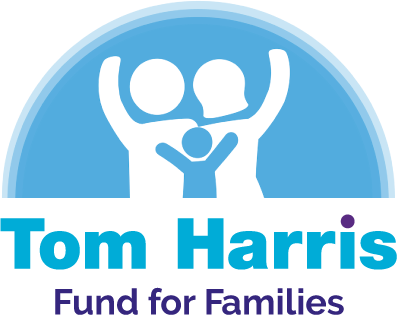 THANK YOU TO THE TOM HARRIS FUND FOR FAMILIES FOR THEIR DONATION TO SEND KIDS TO CAMP THUNDERBIRD!
Charitable registration #: 10822 5566 RR001