Jennie's Capital Campaign for Camp Thunderbird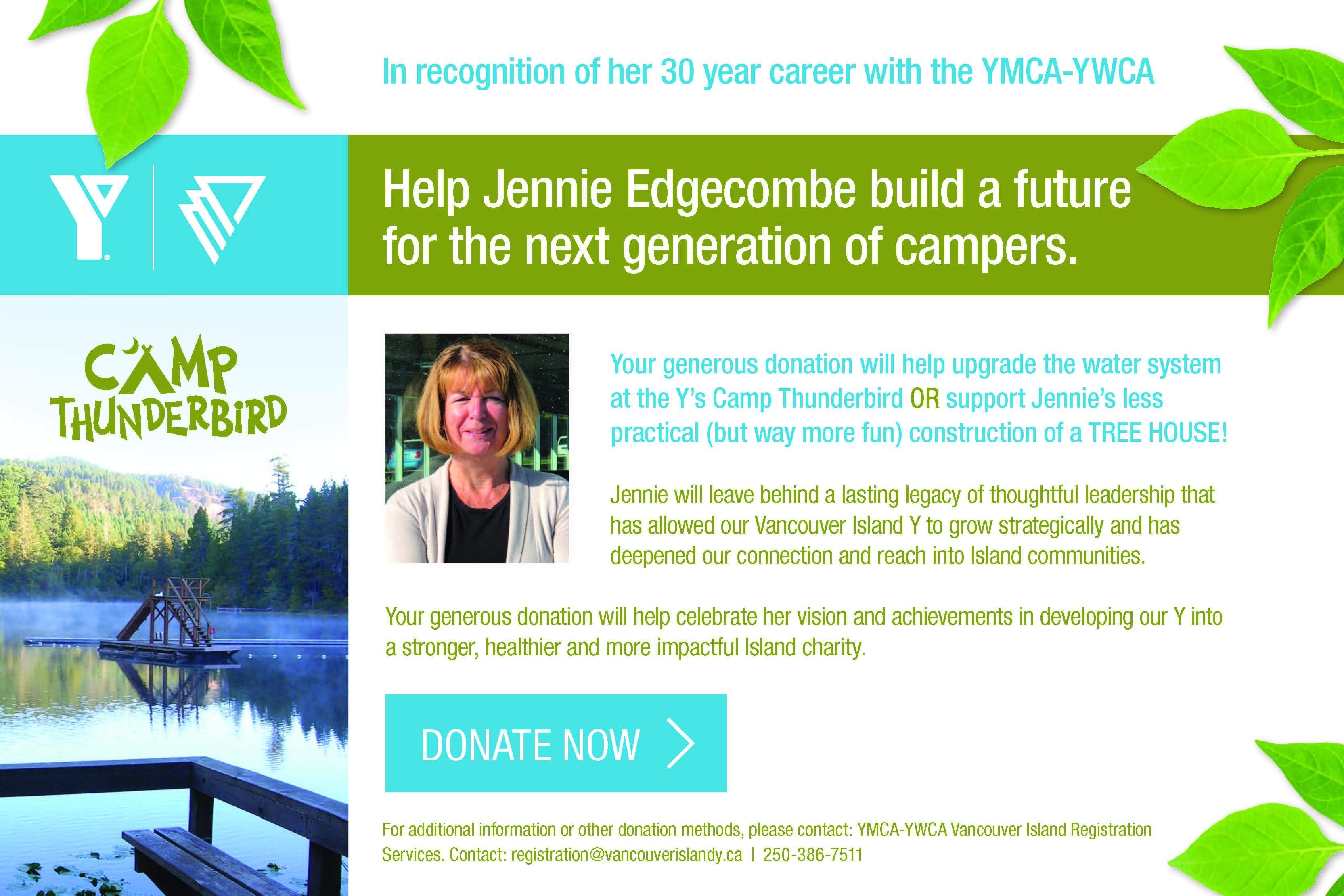 Camp Thunderbird Capital Campaign
The Y's Camp Thunderbird is now more than 80 years old and many of its structures require upgrading. Located on the Sooke – Metchosin border, this beautiful outdoor centre consists of 1200 forested acres, dramatic vistas, and the spectacular Glintz Lake.
This Capital Campaign is raising funds to renew and replace buildings, and enhance the wonderful programs at Camp Thunderbird for future generations of campers.
We recognize and thank the first major supporters of this campaign:
Vera Wille
The Ames Family Foundation
Bert Buchanan
Terry Farmer
Butchart Gardens
Robert F. Wallace
Dr. Joyce Clearihue

Building A Future In More Communities

The YMCA-YWCA of Vancouver Island continues to grow and expand its focus on improving the health of our communities with the opening of two new branches.

We recognize and thank the first major supporters of this campaign:

John & Gabrielle Goudy
Sybil Verch
Peninsula Co-op
Ministry of Children & Family Development

Some recognition opportunities are available for donations supporting the Capital Campaign for Camp Thunderbird, the Langford Westhills YMCA-YWCA or the View Royal Eagle Creek YMCA-YWCA.

For more information please contact:

Fione Wilson
General Manager, Fund Development
250-386-7511 x405
fwilson@vancouverislandy.ca

To contribute to the Y's Capital Campaign click the button below and select "Capital Campaign".