HOCKEY FANS IN TRAINING
Coming soon to the YMCA-YWCA Eagle Creek, located in View Royal.  Hockey Fans In Training (aka Hockey Fit) is a is a 12 week off-ice exercise and healthy lifestyle program research study program, in collaboration with Y's, the Victoria Royals and the University of Western Ontario.
Established in 2014, Hockey FIT was developed to address a growing inequity and provide men with the tools and resources to change their lifestyle for the better and capitalizes on the idea that hockey can lead to positive behaviour changes off the ice too.  Canadian men live on average, 4 years less than their female counterparts. Men are more likely than women to have obesity and are at a greater risk for preventable chronic diseases such as diabetes, heart disease, and cancer.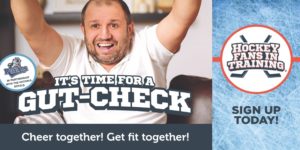 ---

Launching in November the YMCA-YWCA of Vancouver Island will be the first Y in BC to offer the ACTIVATE program.  ACTIVATE is a Heart & Stroke program initiative that has been successfully piloted with YMCA's in eastern Canada and is now expanding to the west coast.
ACTIVATE is an evidence based, "preventative" exercise and wellness-based program for individuals over the age of 40 who are pre-disposed to having high blood pressure and are currently not medicated.   The program is continuous with ongoing intake assessments beginning November 12, 2019.
Book an Assessment